Seagate
's well known FreeAgent Go series of USB hard drives recently received an upgrade with the newly released 1TB model. Like the other FreeAgent Go drives, it is designed to be very portable while keeping your data secure. The promotional image below shows the 1TB FreeAgent Go in a color they call "Tuxedo Black". While most of the other FreeAgent Go drives are available in a variety of colors, the 1TB drive, and some of the other higher capacity models, are currently only available in black.


Before taking a look at the sample provided for review, let's take a look at some published data on the 1TB FreeAgent Go, as taken from the
official product page
on the Seagate website.
Features:
» The thinnest portable drive available. Even the cables are compact
» Store photos, music, and other files
» Carry your data anywhere you want
» Sync data between computers
» Keep your most important files and folders private with software encryption technology
» Back up files using the optional dock
» Encryption technology keeps your files safe
» Fast data transfer with USB
» Save energy with an environmentally smart utility that can power down your drive when not in use
» Enjoy peace of mind with a 5-year limited warranty from the world leader in storage solutions
Specifications:
» Model Number: ST910004FAA2E1-RK
» Interface: USB 2.0
» Capacity: 1 TB
» Height (max): 130 mm (5.12 inches)
» Width (max): 80 mm (3.15 inches)
» Length (max): 21 mm (.83 inches)
» Weight (typical): 160 grams (.35 pounds)
Packaging and Accessories:
These days most packaging is done with either a blister pack or a cardboard box, but the FreeAgent Go combines both of these styles. The majority of it is a cardboard box, however a little more than half of the front is clear plastic, which allows the user to see the actual hard drive inside. The front of the package provides very basic information regarding the model and size, while the back of the box is where the user will get the bulk of the information regarding the FreeAgent Go's features and capabilities.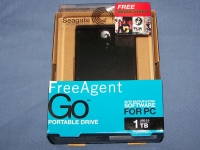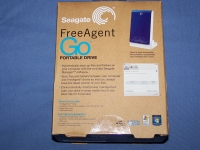 Inside the box there is not much included. You get a single USB cable, a quick start guide, and the FreeAgent Go drive. I was hoping there would be a simple carrying case included, however that item is included with the optional dock, which is sold separately.