In Use:
In order to test out the
Scosche
flipSYNC USBMM charge and sync cable, it was connected to the following devices:
» Acer Aspire
4730Z
laptop
» Verizon
LG VX9700 Dare
cellular phone
» Garmin nuvi
255w
GPS
» Digital Christmas
ornament
by Senario


As the Scosche flipSYNC is designed as a mobile device, I used my Acer Aspire 4730Z laptop to test the connections. Here the flipSYNC is connected to the full sized USB connection on the laptop with the micro and mini USB connections showing.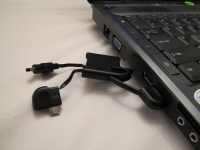 The LG Dare was connected to the micro USB connection; it was recognized by the laptop and it was able to be charged. When connected, a message was displayed on my phone stating
"This cable is not intended for use with this phone"
. Even with this message, the LG Dare battery charge light was active and was fully charged overnight.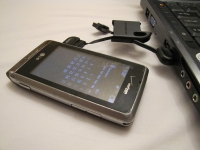 Leaving the LG Dare connected; I wanted to see if the flipSYNC would recognize another device connected on the mini USB connection. I connected the Garmin nuvi 255W GPS to the flipSYNC and was able to have both devices connected and I was able to sync the Garmin while charging the phone (see below left image).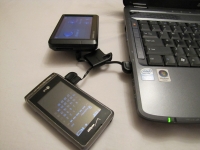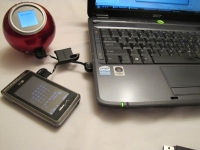 Another item I connected to the flipSYNC was a digital Christmas ornament that displays pictures (see above right image). The flipSYNC also had no problem connecting that device to the laptop, and with the proper software from the ornament I would be able to transfer images to it.