The Basics:
After opening the box, the
Scosche
flipSYNC USBMM is found enclosed in a two piece, clear plastic sleeve that also holds the instruction manual and product survey below it. No additional items or software are included (or needed).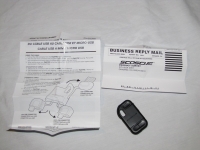 Here the flipSYNC is shown with all the connections revealed. On the top of the flipSYNC, the full sized USB connection snaps out of the base by pulling on it. On the bottom, the mini and micro connections snap out as one and then separate.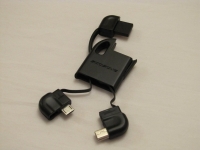 As shown below, the flipSYNC is approximately four inches long when everything is pulled out of the base.
The USB connection for the flipSYNC is different than most. The encasing for the connection is plastic, with only the top portion of the connector being metal. As it is not a normal USB connector, I found it doesn't slip into a USB port as easily as you would expect. It is also possible to insert the connector in to a USB port upside down so that it doesn't connect, and your system will not recognize your devices.