In Use:
The desk has a variety of lighting effects that go from extremely animated to just displaying a single color on all LEDs. The controller shown in the below left image is found on the right hand side of the desk, and provides three buttons... On/off, mode, and speed. While the controller works perfectly, you can see than the glass/plastic top face has delaminated a bit in one corner and it just looks bad. The below right image shows a closeup of one of the two cable pass-throughs on the desk. These are a nice touch as it makes cable management much more attractive.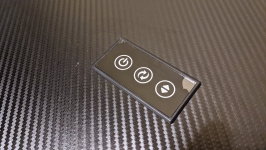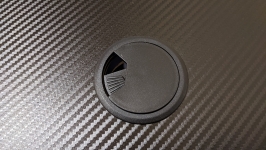 The image below shows a test install in my son's room. He liked the look of the desk's lights in there, considering his various lamps all have RGB addressable bulbs, and he has the LED strip along the wall where it meets the ceilings. The desk surface was going to be plenty large enough for his 15" Chromebook, plus plenty of place to write and spread out books.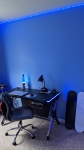 After trying it out in his room, be brought it back to the basement where we have a few gaming rigs, one of which needed a new home.


The three gaming PCs we have in the basement are all lit up with LEDs, and really are the target setups for this desk. We have two images below, and on the next page we will look at a few videos of all the lights in motion. The below left image shows our mid-tower case lit up under the desk, and the RGB keyboard and mouse ready for action on top. The below right image shows the cup holder installed, not per the instructions since they weren't right, but this will work.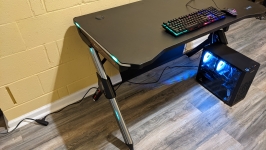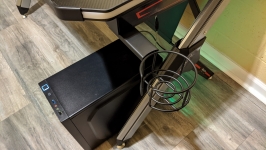 Missing from the collection of items this desk was supposed to have, according to the EwinRacing site is a controller stand and a headphone hook.