Evercool
is a manufacturer of computer cooling solutions that has been around since 1994, which is an eternity in this field! We have covered a wide variety of their products in reviews here at Bigbruin.com, but somehow it has been over nine years since we last looked at one of their products. It was the summer of 2005 when we covered a few of their coolers, including a heatpipe based unit developed for the
cutting edge
Intel P4/LGA775 and AMD K7/K8 platforms!


In this review we're going to catch up with the times and see what Evercool has to offer after so much time. The promotional image above shows the Venti heatpipe CPU cooler, one of Evercool's latest offerings designed for use with Intel LGA775, 1366, 115X, 2011 and AMD AM2, AM2+, AM3, FM1 processors. Before taking a look at the sample provided for review, let's look at some of features and specifications, as taken from the
official product page
on the Evercool website.
Features:
» PWM fan to adjust the power of the fan efficiently,enable HPQ-12025 to obtain both cooling performance and quietness.
» Dual fan installed option provides increase the speed of heat conduction. (addition prices for dual fan purchase.)
» H.D.T. (Heat-pipe direct touch) technology,efficiently diminish thermal resistance,enhancing heat conductivity.
» 4 x 6mm copper heat pipes soldered tightly with fin,to ensure fastest Thermal conductivity.
» Up to 200W.
» HPQ-12025 designed with all metal clips provides a secure attachment on motherboard for:
» Intel LGA775, 1366, 115X, 2011
» AMD AM2, AM2+, AM3, FM1.
Specifications:
» Overall Dimension: 125 x 68 x 160 mm
» DC Fan Size: 120 x 20 x 25 mm
» Bearing Type: Patent EL Bearing Fan Life Expectancy at 25℃
» Life Time: 60,000 hr
» DC Fan Speed: 800 ± 25% RPM~2200 ± 10% RPM
» Air Flow: < 35.05~75.13 CFM
» Noise Level: < 22~38.1 dBA
» Rated Voltage: 12 VDC
» Weight: 588 g
Packaging and Accessories:
The Venti is sold in a well detailed box, which is shown in the two images below...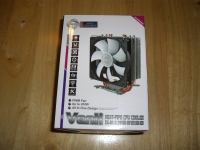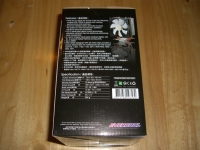 Inside the box we find the cooler and fan secured in a clear plastic frame. In addition to the cooler (with 120mm fan) you get an installation guide and a small box of hardware.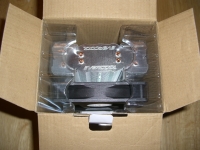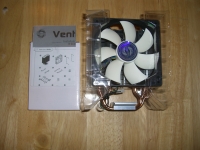 The image below shows everything found in the box of hardware, which will allow you to install this cooler on all of the processor types mentioned above. Of interest may be that there is just one motherboard backplate provided for use with AMD and Intel processors. This makes the piece rather large and complicated looking, and I hope installation doesn't get confusing!