Conclusion:
Thermaltake
has supplied its customers with top notch products for some time now and the Element G is no different. It is a well thought out case that includes the basics we expect, and some interesting extras to set it apart from the large crowd of cases out there.


I didn't find that the lack of a tool-less design constituted a flaw, so with that in mind the only real flaw I could find was a lack of an eSATA connection on the front panel.
So in the end what are we left with? The Element G is a case that reflects a great deal of thought and effort in its design. We have immense cooling, vast amounts of room for hard drives and some of the best cable management you can get. If you are looking for a mid tower case that will not only accommodate the larger video cards and motherboards, but do it in style, then the Element G is right up your alley.
Checking around the Internet reveals that you can find the Element G priced right around what you would expect considering the extras and perks provided.
Newegg.com
carries it for $124.99 plus shipping, while
SuperBiiz.com
offers it for $129.99 with free shipping!
When all is send and done, everything the
Thermaltake
Element G mid tower case has to offer helps it to earn the Bigbruin.com "Highly Recommended" award.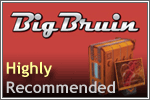 Pros:
» Great cable management
» Well ventilated
» Lots of hard drive space
» Fan & LED control
Cons:
» No eSATA connector
Please drop by the Bigbruin.com Forum and feel free to post any
comments or questions
.