Conclusion:
I was very disappointed to learn that remote temperature sensing for the ecobee thermostats was not supported yet, but as I mentioned I do have faith ecobee will deliver on this feature. Really it just makes sense for them, since it would further enhance their advantage of remote sensors. But even with that hang up I was left very impressed with the device. I would like to see some improvements; namely I would like the Smart Features to have Do Not Disturb times you can set like you can with Alexa. This would allow most people to maintain the convenience of auto on/off, but not worry about being disturbed all night or fretting over the placement of their switch. It would also be nice to be able to dim that nightlight. In my case I may try a bit of window tint to see if that takes the edge off a bit.


At the current price of about
$99 on Amazon
, the ecobee Switch+ is about double the price of other smart switches. So this really comes down to your need for Alexa integration/control and future room monitoring capabilities. For me these features are well worth the extra cost. Their room sensors currently sell for about $40 each and a Dot is $50. While the Dot does have better sound, you don't always have a need for that in every room. So there are certainly many applications where this ecobee Switch+ will be the most cost effective solution, not to mention it looks nice. You don't have to have a bunch of devices scattered around. In the end I will likely buy additional ecobee Switch+'s, but I will likely wait for the new features to roll out to make sure they work as I expect.
In the end, the ecobee Switch+ earns the Bigbruin.com awards of "Great Idea" and "Recommended".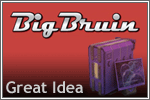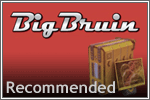 Pros:
» Easy setup and intuitive use.
» Sound quality better than I expected.
» Great product support in general from ecobee.
» Smart features can be exceedingly useful.
Cons:
» Would like to be able to customize smart features.
» Currently no support for temperature feedback.
Please drop by the Bigbruin.com Forum and feel free to post any
comments or questions
.