Packaging and Accessories:
The box for the DXG USA DXG-595V HD video camera would look right at home on a retail shelf. The packaging is a bright blue, with other eye catching colors.


The front of the box not only provides a glimpse of the camcorder, it also provides a high level overview of several important features. More details are located on the back, where the specifications can be found.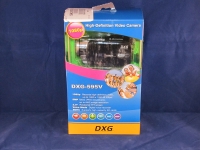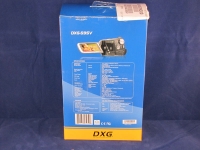 Inside the cardboard box the camera and its accessories are placed in a plastic case which keeps everything in place and protected.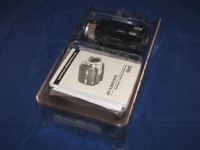 Removing everything from the packaging we find that DXG USA has included a number of accessories with the camera. The picture on the left shows the included hardware accessories; including a carrying pouch, A/V and component video cables, a battery charger, power cord, battery, USB cable, and a shoulder strap.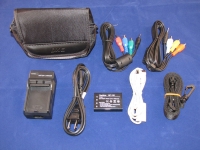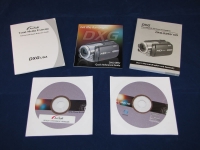 The above right picture shows the documentation and disks that come with the camcorder. The documentation include a simple guide on ArcSoft Total Media Extreme, a quick reference guide, and a user manual for the camcorder. The two disks include various applications to help get full use of the camcorder.