Conclusion:
I think the
Kingston
Data Traveler 2000 64GB USB 3.0 flash drive is a well designed and thought out product. As you saw in the performance tests; this hardware encrypted drive is even faster than what Kingston claims. So you really aren't giving up anything by selecting this drive over a standard USB drive to keep your data secure. Well, you're not giving up anything but a bit more money.


Currently you can pick up a more "traditional" 64GB Kingston USB 3.0 drive for about $15, where the Data Traveler 2000 64GB currently sells for over $150 at places like B&H Photo, Adorama, and Amazon... That is over 10 times the price, so you have to ask yourself if you really need a drive designed for the corporate environment. This is not the type of device you are going to get just for the heck of it. But should you have data that you need to keep secure at all costs, there are few alternatives. The reality is the cost of your data getting into the wrong hands will likely cost you a lot more than the cost of this drive. But if cost is an issue you may want to consider the 16GB or 32GB versions, which are currently selling for $100 and $120 respectively. If this cost of admission is still too high you might want to take a look at
Kingston's Data Traveler Locker+ G3
; this is their offering for personal use. A 64GB version is currently selling for around $60 but they only work with Windows and Mac OS'. I think for the majority of people this is an acceptable trade off.
In the end, the
Kingston
Data Traveler 2000 64GB USB 3.0 flash drive earns the Bigbruin.com "Highly Recommended" and "Great Idea" awards.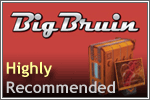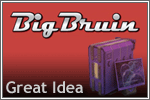 Pros:
» Well thought out security
» Easy to use even for sausage fingers
» Well made
» Fast read/write speeds
Cons:
» Price will keep many people from picking one up.
Please drop by the Bigbruin.com Forum and feel free to post any
comments or questions
.