Testing:
Testing will primarily take a look at read/write speeds with different types of file transfers, but we will also take a look at AC power consumption. The Synology Diskstation DS415+ was connected to a network where all wired devices feature Gigabit network adapters, and all cabling is CAT6 grade. The DS415+ was connected with a six foot CAT6 cable to a D-Link branded Gigabit switch. The computer used to access the DS415+ in this review was also connected directly to this switch with a ten foot CAT6 cable.


Testing will compare the performance of the Synology Diskstation DS415+ with the following other network attached storage servers:
» Western Digital Sentinel DX4200 16TB Windows Storage Server
» Thecus N5550 4-bay NAS Server with 5x2TB drives in RAID 5
» Synology Diskstation DS415play 4-bay NAS server with 4x 2TB drives in RAID 5
» Synology Diskstation DS414j 4-bay NAS server with 4x 2TB drives in RAID 5
» Thecus N2310 2-bay NAS server with 2x 2TB drives in RAID 1
Power Consumption:
The six NAS servers were all plugged in to a Seasonic Power Angel monitoring device at different times in order to get real time information on the electrical current drawn while in use. The devices were tested in three conditions, where possible... 1) While the device was active - reading and writing data from two different clients in order to keep the drives spinning, 2) with the device idle - where it is fully powered up but with no active data transfers, and 3) in hibernation mode - where the disks have spun down due to inactivity to conserve electricity. The Thecus devices and the WD Sentinel DX4200 do not support hibernation, so the "N/A" shown indicates it could not complete that part of the test.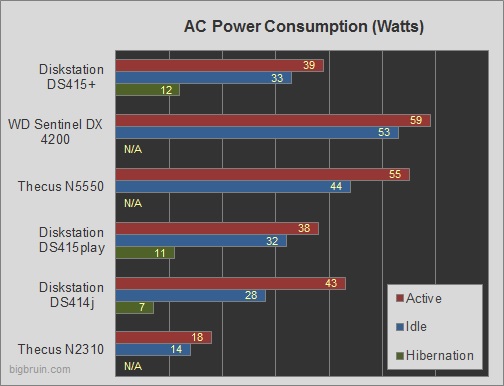 We see very good results, and that whether active or idle the DS415+ is under 40W. I was expecting a bit more power consumption as compared to the DS415play and the DS414j, but the DS415+ definitely doesn't consume much electricity. The hibernation value of 12W is higher than other comparable Synology units, but at least it is able to automatically go in to this low power mode - unlike the devices from Thecus and Western Digital.