Testing (continued):
ATTO Disk Benchmark v2.41:
The final testing was done using ATTO Disk benchmark. While this benching tool tests multiple different file sizes we are only going to report two; 64KB and 8MB read and write performance. To execute this testing we first had to map the Synology DS1019+ as a network drive. The first test involved read speeds of a 64KB file and the DS1019+ was able to support 112.44 MB/s which is fast, but kind of middle of the pack.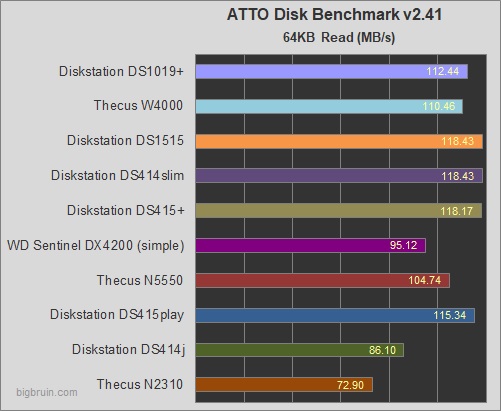 The write performance for 64KB files was 113.20 MB/s. Again, while fast it is not the fastest in this group and trails the leader (DS415+) by nearly 4 MB/s. On the bright side this was more than double the performance of the DS1515 most recently tested.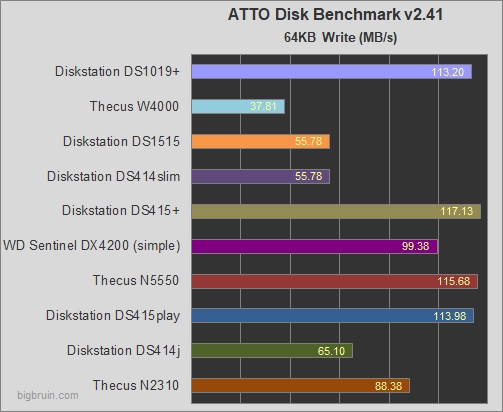 Next up 8MB files were read form the DS1019+ and we saw 112.10 MB/s. Again this is fast but not the fastest in this group.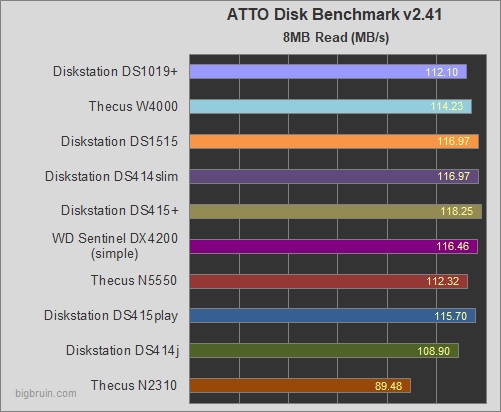 For the final throughput test ATTO wrote 8MB files to the DS1019+ and got 113.02 MB/s. Again this trailed some competitors but was nearly double the DS1515.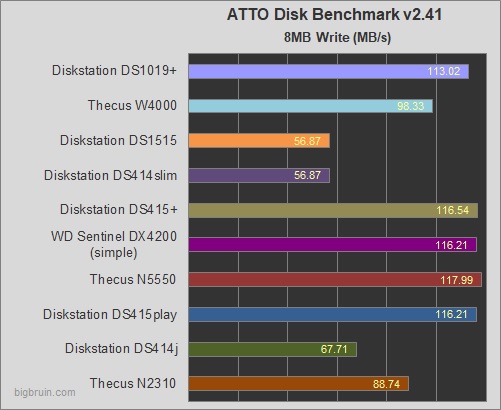 Overall the read and write capabilities of this DS1019+ are very good and consistently near the top. I suspect some of my numbers are a little less since I don't have link aggregation set up and with only two installed disks I don't have any speed advantages that come with RAID when you have multiple disks and can utilize stripping.