Testing (continued):
Real World File Transfers - Large Files:
Large file transfer rates were the second area of interest. Disk images, HD video files, and large multimedia projects would fit in to this grouping. The large file transfer test involved moving a single MPG video file around the network to the storage servers. A reboot of the Windows desktop system was executed between each test, and different folders were used for reading and writing. Again each test was repeated and the average taken of the results was recorded.
When reading the large file from the DS1019+ I was able to get an incredible 119.10 MB/s which was the best in our test results. This was a significant improvement over the DS1515 which at the time of testing was using four Ethernet cables versus just one in this test.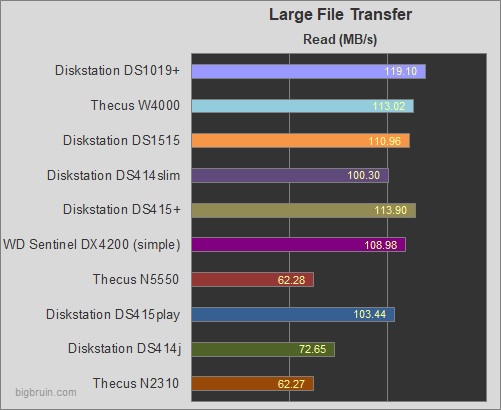 Writing these files to the DS1019+ was equally impressive. In this test we were able to achieve a whopping 120.70 MB/s besting the DS1515 by nearly 10 MB/s.