Testing (continued):
Real World File Transfers - Small Files:
In the next phase of testing we will look at transfer speeds during real world file transfers. For all tests, the files described were transferred to/from the Windows desktop PC and one of the storage servers while a stopwatch was used to record the duration. Then the file size and the transfer time were used to calculate a transfer rate.
Small files were tested first in this section. Files such as documents, pictures, and digital music probably consist of a large portion of what people would want to back up or share. The files used for this test were a folder containing several other folders with photos and a few short videos from a phone backup. A reboot of the Windows desktop system was executed between each test, and different folders were used for reading and writing. I executed each test twice and took the average.
The chart below details the results for reading the collection of small files. Here we see that the DS1019+ performs very well, besting the DS1515 and just trailing the WD Sentinal.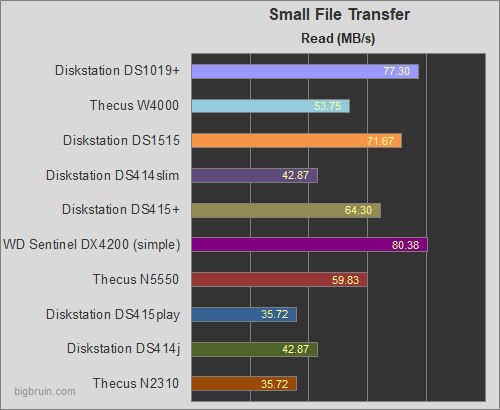 Writing these files to the DS1019+ was just as impressive. Again it came in second overall, but this time it gave the nod to the DS1515.