Testing:
For all tests, the Synology DS1019+ was connected to a Gigabit switch using a CAT6 cable. The computer used for file transfers was also connected to the same switch using a CAT6 cable. For the testing below, only one of the supplied Ethernet ports was utilized on the DS1019+ unless otherwise noted.
Testing will compare the performance of the Diskstation DS1019+ with that of the following other NAS servers...
» Diskstation DS1515 45bay NAS server
» Diskstation DS414slim 4-bay NAS server
» Diskstation DS415+ 4-bay NAS server
» WD Sentinel DX4200 4-bay NAS server
» Thecus N5500 5-bay NAS server
» Diskstation DS415play 4-bay NAS server
» Diskstation DS414j 4-bay NAS server
» Thecus N2310 2-bay NAS server
Power Consumption:
For this review we did not repeat the testing of the previous units power consumption but we did use the same Seasonic Power Angel monitoring device to get wattage. As with the other tests three conditions were recorded: 1) While the device was active - reading and writing data from two different clients in order to keep the drives spinning, 2) with the device idle - where it is fully powered up but with no active data transfers, and 3) in hibernation mode - where the disks have spun down due to inactivity to conserve electricity. It should be noted that this unit only had two drives installed, so if yours is fully loaded with five spinning platters you should expect to see higher power consumption for active and idle modes.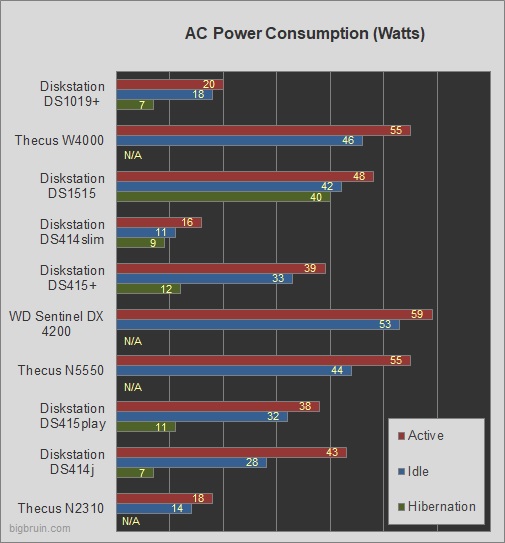 Based on the results I am really interested to see what the numbers would have been if this unit had all five bays filled. But based on these numbers it is incredible efficient. With a hibernation mode consuming only 7W it matches the DS414j which was designed to be a low power solution and is less than 1/5 the power consumption of the other five bay Synology tested (DS1515). Theoretically this hibernation consumption shouldn't increase with five drives since the drives are shutdown, but for sure the active consumption would go up. Either way this is a welcome sight since most of the time my NAS is hibernating, only waking to do an occasional back up task or in the evenings and weekends streaming shows.