The Basics (continued):
Turning to the back of the unit you will find at the very top two large 92mm fans to help keep this unit cool and hopefully extend the life of your hard drives all while keeping the sound levels down.


Below the fans on the left side you'll see the dual gigabit Ethernet ports which feature link aggregation and failover support. Below this is an eSATA port and your power input. Just to the right of center you'll see a Kensington security port and below that the other USB 3.0 port.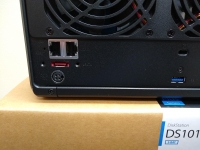 Flipping the DS1019+ over you will find two tabbed covers. Removing these you can access the M.2 NVMe slots for additional expansion. These slots are used for frequently used files to make access quicker. Unfortunately we did not have these available for testing but we will update the review should we get some in house.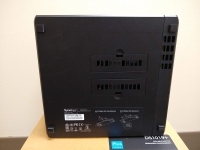 As with the DS1515 we reviewed earlier; the vertical doors are actually integrated into the drive tray. Lifting the bottom edge will release the drive tray from the housing and you can slide it out to install your drives. Because this is so easy to do I highly recommend you lock your drives in place with the included key, especially if you have kids around that like to poke at things they shouldn't. This particular unit came with two drives but adding additional drives is tool less for 3.5" drives but you'll need a screwdriver for 2.5" drives. 3.5" drives are held in place by a strip that snaps in place, 2.5" drives require screws through the bottom of the tray.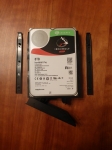 When you remove the drives from the unit you can see the hard drive connectors mounted on the board at the rear of the unit and on the right side you can see the two slots for RAM. In this case the Synology branded Ram has SK hynix chips.