Packaging and Accessories:
As is typical with Synology, the DS1019+ comes in a rather plain cardboard box. The bulk of the box is unprinted but it does have two stickers with product images; showing a layout of the device as well as listing a few features and specifications. From this low key image it is clear Synology is not relying on flashy packaging to sell the product. But with that said, the packaging does a fine job of keeping the contents safe and it even comes with a convenient carry handle to make it easier to bring it to the register when you're ready to purchase.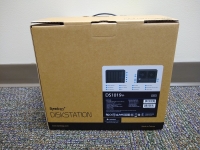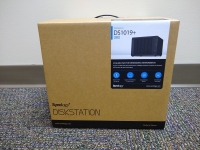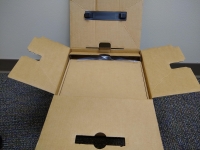 Inside this box we find a smaller box filled with the device's accessories, as well as the folded cardboard frame and foam sleeve which is used to secure the NAS server. The included accessories are: (2) RJ45 cables, an AC power cable, a set of keys, and a quick installation guide.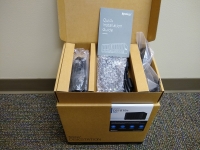 The Basics:
As you can see in the images below, the Synology DS1019+ is all black with the five drive bays easily accessible from the front. These bays are numbered 1 through 5 from left to right and have a locking key on the bottom. Along the right side of the enclosure you'll find several LED indicators; one for each of the drives and a status indicator. Below the LEDs you'll find a front mounted USB 3.0 port and just below that you'll find the power button.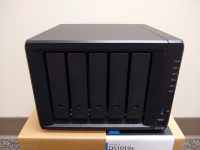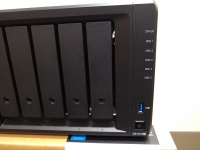 Each side of the device features the Synology logo cut in to the metal, with a mesh panel insert. This gives it a nice aesthetic, but also allows for some air to circulate through the device.