Conclusion:
Synology
has always been my go to recommendation for anyone looking for a NAS server, and I can certainly add the DS1019+ to that long list of recommended products. The DS1019+ is very well made, the drives are easy to access and install, RAM is plentiful and is easily accessible, and the addition of M.2 NVMe slots for cache is a great feature. If I had to nitpick, the only thing I would like to see is some sort of lock on the M.2 NVMe slots. This isn't a show stopper since they are out of sight out of mind, but for someone using this in a small business you would want to make sure they are secure.
With the quad-core Celeron J3455 processor and 8GB of RAM, the DS1019+ is fast. It did well in all of our throughput testing and while it was not the leader in every category it did very well overall and was likely held back some by only having two drives installed and running a single Ethernet cable. Later I did do additional testing with link aggregation but since the test computer was only connected with a single Ethernet cable we did not see much improvement. That said, we were already approaching the 125MB/s limit of a Gigabit connection. But I was able to verify that I could have two computers write to the NAS concurrently and combined speeds were consistently in excess of 150MB/s. Also all this RAM and CPU power made for an impressive streaming experience. With my older DS414Slim I would have constant buffering, but this DS1019+ is quite capable of streaming to multiple sources and it did a great job of transcoding 4k sources.


Management of your NAS is made easy with the intuitive DSM interface. For me this is another selling point for Synology. They do an excellent job of making the settings easy to find and understand, all while keeping it constantly updated. They have a multitude of Synology packages and third party packages to perform just about any task you like. Overall you can make it as simple as you want or handle your most complex backups either locally or to or from the cloud.
With a current sale price of
$639 for a bare unit on Amazon
, the DS1019+ is not a cheap device. But you do get a lot for you money. It is a powerful NAS server that can be expanded if needed, and out of the box will likely surpass the needs of 95% of the people. If you don't need a 5 bay model, Synology does offer the DS918+ which is about a hundred dollars less and is only missing 4GB of RAM. This may be a good compromise for some.
With all of that said, the Synology DiskStation DS1019+ 5-Bay NAS Server earns the Bigbruin.com "Highly Recommended" award.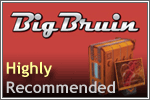 Pros:
» DSM software is very intuitive
» Hardware transcoding works great
» Powerful CPU and plenty of RAM
» Fast transfers
» Dual M.2 NVMe slots
» Expandable
» USB 3.0 front and rear
» 3 year warranty
Cons:
» Can be expensive fully loaded
Please drop by the Bigbruin.com Forum and feel free to post any
comments or questions
.