The product up for consideration takes our interest in home automation in a whole new direction! The
Dome
Mouser DMMZ1 Z-Wave Plus smart rodent trap was sent over to us by
The Smartest House
, and I have to say it may be one of the most interesting applications of Z-Wave technology that I have seen.


In the promotional image above we see that the Mouser has a cat inspired design, as well as a cat inspired purpose. The housing conceals a battery powered electrocution system, as well as a Z-Wave radio to let you know when it has "taken care of" a rodent! Unlike a cat, the Mouser will keep the dead pest neatly inside of the housing instead of dropping the mangled, bloody corpse at your feet... But it will send an alert to your smartphone! Before taking a look at what else the Dome Mouser has to offer, let's check out some of the published information on it as taken from the
official product page
on the Dome website...
Features:
» BATTERY POWERED: Place anywhere and don't worry about finding power.
» QUICK AND HUMANE: The powerful electric shock knocks out rodents in a matter of seconds.
» EASY MAINTENANCE: Easily replace the bait or dispose of caught rats without touching anything gross.
» USE WITHOUT Z-WAVE: In case you want the coolest mousetrap ever (but don't have a Hub.)
» 50 ZAPS PER SET OF BATTERIES: Or two years, depending on how many rodent roommates you have.
» SAFE FOR PETS AND KIDS: A three second delay before the zap keeps children and pets safe.
Specifications:
» Power supply: 4x AA batteries (not included)
» Battery Life: 2 Years (50 Zaps)
» Trap Method: Electrocution
» Power Consumption: 0.6W
» Operating temperature: 32 - 104 °F (0 - 40 °C)
» Warranty: One Year Parts & Labor
» Sensor Dimensions: 8.5" x 4.5" x 5"
» Radio protocol: Z-Wave (500 series)
» Radio frequency: 908.4 MHz US
» Capabilities: Notifications (Pest Control & Home Security)
» Range: Up to 150' depending on environment
Packaging and Accessories:
The Mouser comes in a well detailed retail box shown in the images below. There are enough images and information provided to explain exactly what is in the box.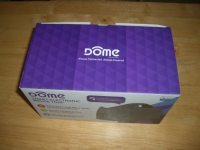 Inside the box, you will find the Mouser packed securely inside a foam chamber to keep it safe in transit. The only other item found in the box is a user's manual.