The Basics:
COVR-2600R:
As I mentioned in the introduction, this device is much more understated than some of their brightly colored routers with tons of antennas. The base router is a simple wedge design using what appears to be high quality matte black plastic.


Viewing the unit from the top you'll find the D-Link name just above center with a raised gold print. Along the bottom edge you'll find LEDs for power, internet, 2.4 & 5GHz as well as USB. Along the top edge there is an interesting pattern which adds a bit of upscale look to the unit. Along either side you will see an antenna mount near the rear and some venting for the internal components. What I found interesting is the plugged hole up front. It appears to be the right size to add an additional set of antennas. So maybe there will be a more premium version of this device coming soon.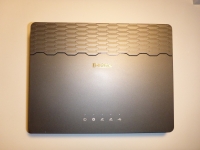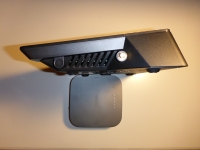 Along the back you will find the input power connection, power switch, two antenna connectors, WAN port, four LAN ports, WPS switch, reset switch, and Wi-Fi switch. Overall the layout appears to be acceptable, with plenty of room for even my fat fingers to get in there to access switches or ports. In the front right you'll find the USB 3.0 port for you to attach a storage device. I really like that this is upfront, since it makes connecting a device so much easier than trying to fumble blindly to a port on the rear. Flipping the unit upside down you'll find additional slots for cooling, four rubber feet, a sticker with make/model etc info as well as two wall mount slots.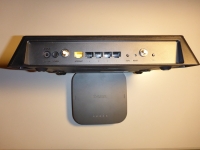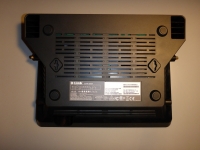 COVR-1300E:
The extender unit is made of the same matte black plastic, and here the D-Link logo is embossed on the top cover - front and center. Along the bottom edge there are LEDs for power, 2.4GHz uplink, 5GHz uplink, 2.4GHz down and 5GHz down. Around the back edge you will find a reset switch, a Wi-Fi switch, two LAN ports, a power switch and the power input connector. Flipping the unit over you'll find four feet, two of which are slotted for wall mounting.