Packaging and Accessories:
D-Link
packages the COVR-3902 in a detailed full color sleeve over a cardboard tray. This kind of surprised me a little since this is how they typically sell their entry level equipment. Their higher end gear typically has a much more polished look to the packaging. But to be honest, all of this ends up in the recycling bin. So long as this router functions as intended I only care that it holds the product safely which this appears to do quite well.


As you can see in the pictures below, the front cover provides a picture of the devices contained in the box and claims to provide 6000 square feet coverage, includes a 3 year warranty, creates one seamless network, works with 4k streams, and includes their 'PowrZone'. The back covers some additional features including things like smart roaming and steering, expandability of the system, easy setup with the D-Link app, and MU-MIMO support. Overall the box does a good job of conveying the contents and capabilities. Though I am surprised D-Link continually refers to the AC1300 device as an extender. It never uses the buzzword "Mesh network" anywhere on the packaging.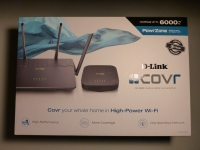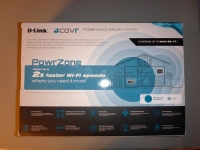 Sliding the tray out of the sleeve you will find the base router unit wrapped in plastic with the antennas detached and in bags on either side of the unit. Below the main unit there is the extender, power adapters, and Ethernet cable. The power adapters have labels on each so you make sure you connect the right one to each device. While they both use the same input voltage, the base unit requires 3A vs 1A for the extender.