Internal Inspection (continued):
Here we see the hard drive bays. The bays are also advertised as tool-less, and four plastic caddies are in place to accept your hard drives. The entire bay is also mounted with thumb screws, making removal easy. There is a silent 120mm intake fan squeezed between the front wall and the internal bay rack to help keep hard drives cool.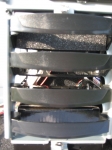 Looking at the rear, we find the 120mm exhaust fan, which is wired with the front fan. This means you only need one fan power plug through the motherboard for both. These wires are neatly run along the edge of the side panel. Again, more acoustic dampening foam sheet is present to help quell noise. With this foam sheeting on just about every flat surface, noise should be fairly well reduced. As was seen in the previous review of a Quiet PC USA quiet case, noise was minimal, while heat insulation was not an issue thanks to ample cooling.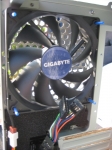 Tool-less construction carries over to the expansion card area as well. Individual plastic clips are provided for the slots. Pushing down on the finger pad literally allows the clip to spring away.
Here we find the wires for the front (err… top) panel connectors. Included in the mass is a micro switch (intrusion), power switch, HDD LED, power LED, 9-pin USB, 9-pin AC-97 microphone & headphone, 9-pin 1394 (with 9-pin and 14-pin splitter), and a standard SATA cable end for the eSATA Port.