External Examination (continued):
On the top of the unit we find the controls, including the 'Front' I/O ports behind a labeled sliding door.


A full bevy of ports are represented on the I/O panel - eSATA, 6-Pin IEEE-1394 (Firewire), two USB 2.0 Ports, as well as AC-97 compliant headphone and microphone ports.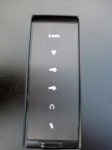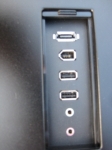 Ok, no mention of a power button was made, but we find the power button atop the hinge.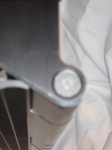 On the rear of the Cupio 6140, a standard mid-sized ATX layout is found. From top to bottom, we find a typical power supply mount, the ubiquitous ATX I/O header panel, a 120mm silent exhaust fan, and a 7-slot array for expansion cards. Right below the 120mm fan are two holes for liquid-cooling plumbing, if you are inclined to utilize liquid-cooling with an external heat exchanger. This helps to keep things neat without resorting to tools to create access for the plumbing. Also on the back, we find a pair of keys for case locks.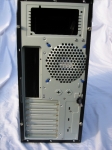 Looking at the left-side of the unit, we find a full side panel removable by clips and two thumb screws. One of the sliding clips does have a lock to help keep intruders out. There is also an intrusion micro-switch which can be enabled through many modern motherboard BIOS settings.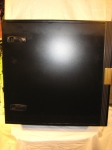 That completes the basic tour of the outside. Let's take a look at the business side of the machine - the inner workings.