Conclusion:
What is obvious from the results of the review is that the
NZXT
Cryo S does help lower your system temperatures. When it comes to electronic components, cooler is always better, so the primary objective of this device was accomplished. What you can not see, and what I found even more impressive, is the difference in comfort provided by the Cryo S. The angle established by the cooler not only helped put my hands and wrists in a more ergonomic position, but actually helped my seated posture.


Checking a few places online finds that the NZXT Cryo S is fairly afforable, presently selling for $39.99 at
Newegg.com
. While there are obviously cheaper choices out there, you could easily pay more for a high quality cooler with similar features and refinements.
I would suggest the NZXT Cryo S aluminum notebook cooler to anyone that spends time on a laptop, netbook, or notebook, as it can not only improve the longevity of such devices, but it can also make life much more comfortable while doing so. Team that with affordability, and you have yourself a Bigbruin.com "Recommended" award winner.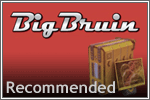 Pros:
» Effective cooling
» Sturdy build
» Increased comfort
Cons:
» No power switch
Please drop by the Bigbruin.com Forum and feel free to post any
comments or questions
.