Conclusion:
The Ballistix Tracer 6GB DDR3-1600 memory kit gives you everything you would expect both from an enthusiast grade memory kit, as well as from a
Crucial
brand product. On the enthusiast side of things, you have a set of stylish LED-illuminated modules programmed with a 1600MHz XMP profile rated to run at respectable timings. On the Crucial side of things you have high performance memory backed by a limited lifetime warranty and a 30-day money-back compatibility guarantee.
During testing this kit performed very well at stock speeds, but with minimal effort the performance can be enhanced by overclocking. I used to consider myself a decent overclocker, but not any more, so for me to take this kit up to 1980MHz means it must be easy. A patient and skillful tweaker could probably do much better, although looking at other reviews of this kit indicates that my results have exceeded the typical findings when it comes to overclocking.


The price may be the main downside to this kit.
Comparison shopping
(for all the colors available) reveals that the best deal on this kit might be from Newegg.com where the price is just under $200 (US). There are plenty of 1600MHz CAS 8 kits from other manufacturers available for less money, and in some cases much less money. The LED lighting obviously adds a bit of a premium to the price, but I couldn't justify the difference I have seen when checking out prices on kits from some of the other big names in enthusiast grade memory.
The bottom line is that this Crucial Ballistix Tracer 6GB DDR3-1600 memory makes for a great kit in terms of performance and style, but it could use some help in the pricing department to really impress me as a must have item. That said, it earns the Bigbruin.com "Recommended" award.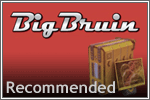 Pros:
» Solid performance
» Definitely overclockable
» Available in four colors
» LED lighting adds an extra element to the visual appeal
» Backed by Crucial's support and warranty
Cons:
» Plenty of 1600MHz 8-8-8-24 kits available for less money - perhaps much less
Please drop by the Bigbruin.com Forum and feel free to post any
comments or questions
.