Configuration:
A system with the following components was used for this review:
» Intel Core i7 920 quad core processor
» Gigabyte GA-EX58-UD3R LGA 1366 X58 ATX motherboard (BIOS F6)
» Seagate Barracuda 7200.10 750GB SATA 3Gbps hard drive
» Panasonic slim optical drive
» Nesteq EECS 700 Watt power supply
» Windows 7 Pro 64-Bit operating system
With the Crucial Ballistix Tracer 6GB DDR3-1600 memory kit installed in the system above, I booted up and went straight in to the BIOS. I enabled the XMP profile and confirmed the speed and timings agreed with the published specifications. After the system was allowed to boot in to Windows, I loaded
CPUID
's CPU-Z to see what that program had to say about the modules installed.
The below left screen shot shows the "Memory" tab of CPU-Z, where we get confirmation that the memory is running at roughly 800MHz (1600MHz DDR3), and that the timings are 8-8-8-24 2T. The below right screen shot shows the "SPD" tab where we see that these modules have three JEDEC profiles and the XMP-1600 profile programmed in.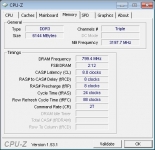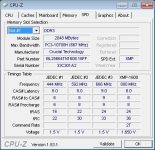 Hidden by the watermark in the above right image is that the memory is rated to run at 1.650V when the XMP-1600 profile is in place. The motherboard on hand wouldn't go right to 1.65, but 1.64 seemed close enough to me - and the fact that the memory was stable and able to complete all testing tells me the hundredth of a Volt is insignificant.


Overclocking:
I don't really do much overclocking these days, but felt compelled to try with this kit installed. Last summer I ran a
1600MHz OCZ Technology kit
up to 1867MHz and considered that a success given my inexperience with all the tweaks you can make to an X58 based system.
This time around I wouldn't say I was any more experienced, but things did go even better in terms of the maximum speed attained. While keeping the voltage at 1.64V and maintaining the stock 8-8-8-24 timings I was able to get just above 1800MHz. Relaxing the timings to a rather loose 10-10-10-28 allowed these modules to climb all the way to 1980MHz.
I was gunning for 2000MHz, but couldn't quite get there while keeping the system stable enough to be useful. I am sure that with more skill and effort, this kit could go even higher.