The Basics:
The modules in this Ballistix Tracer kit feature a black PCB with a matching black heatspreader, but you can also buy this kit in either red, blue, or green. The heatspreader is held on by adhesive only, and it seems just about everyone has abandoned the mechanical clips that once held heatspreaders firmly in place.


Inside the package we find three identical memory modules, as shown in the below left image. One side of each memory module features the "crucial" logo on one end, and the phrase Ballistix Tracer DDR3 on the other end. The other side features the data labels where we see a variety of manufacturing data, as well as some of the memory's specifications.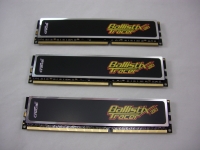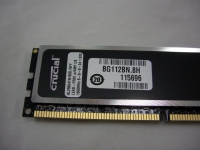 The Tracer portion of the product's name indicates that these memory modules light up. There is a bank of LEDs near the bottom edge of the PCB, as well as another bank of LEDs along the top edge. The image below takes a look at the top edge of each module, and the tiny yellow rectangles are where the multi-colored light show will be produced.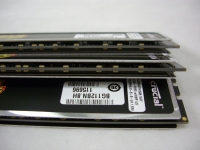 When powered up, the LEDs near the bottom of each memory module are always lit with an electric blue glow. This color washes over your motherboard and lights up the edges of each memory module and the socket they are seated in. The LEDs along the top edge are more dynamic - providing a light show with motion and different colors that respond to the activity level of the memory. The busier the memory is while handling computing tasks - the busier the lights become.
The video below captures the Ballistix Tracer modules in action. The first half of the clip shows the memory while the system is idle. You have a bit of color along the top edge, and the constant blue glow along the bottom edge. Towards the end of the video, Folding@Home has been activated on all cores of an Intel i7 920 processor, and the memory lighting responds with a dizzying light show.