Crucial
may be one the older memory manufacturers out there, but when it comes to enthusiast grade system memory they're really one of the new kids on the block. With the launch of their Ballistix line in 2004, they brought their expertise in producing high quality products and their reputation for strong support to the computer enthusiast segment of the market.
This review is going to take a look at their fastest triple channel memory kit, which is shown in the promotional image below. The Ballistix Tracer 6GB DDR3-1600 memory kit provides three 2GB memory modules rated for 1600MHz operation, set off from your typical system memory by an array of LED lights that will get your system glowing.


Before taking a closer look at this memory kit and how it can perform, let's take a look at some published data on it taken from the
official product page
on the Crucial website.
Features and Specifications:
» Part Number: BL3KIT25664TN1608
» Package: Ballistix Tracer 240-pin DDR3 SDRAM with LEDs, 256Meg x 64
» Capacity: 6GB - 3x 2048MB Memory Modules
» Speed Grade: PC3-12800, 1600MHz DDR3
» Timings: 8-8-8-24
» Voltage: 1.65 V
» Buffered/Registered: Unbuffered
» ECC: No
» Warranty: Limited lifetime warranty and a 30-day money-back compatibility guarantee.
While they do offer DDR3 memory with even faster clock speeds (1800MHz and 2000MHz), you can only get there with individual 1GB modules or as part of 2GB dual channel kits. And while this is their fastest triple channel kit, you can get higher capacity kits if 1333MHz operation is acceptable. They currently offer 24GB triple channel kits that would set you back as much as $2100 (US).
Packaging:
From my experience with Crucial memory over the last several years, the packaging was always simple and utilitarian; generally a brown cardboard box with the memory modules individually sealed in anti-static bags inside. What we see with this 6GB Ballistix Tracer kit is something far more flashy, and better prepared to be displayed in a retail setting.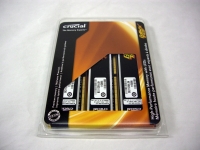 While the packaging doesn't tell you anything specific about the memory inside, the window on the front lets you see the actual modules and their data labels which detail the speed, timings, and voltage. Of interest (at least to me) is that the key information on the packaging is provided in English and French, and just a few of the details are also provided in Spanish.