Conclusion:
The
Crucial
MX100 256GB solid state drive impressed in terms of its read performance. It is rated for 550MB/s while testing showed that it could get up over 540MB/s - and either value is impressive for a drive advertised as offering cost-effective mainstream performance. The cost-effectiveness of the drive is only enhanced by Crucial including a free download of Acronis' True Image software, which is an excellent utility for cloning an existing Windows installation on to a new drive.


The downside to the MX100 is that the 333MB/s write speed specification is rather pedestrian when compared to many other SSDs on the market. Read speed is definitely more important than write speed for most users, but you'd probably rather not settle for less since having the best of both worlds is possible. If you like the general features and specifications of the MX100, you could check out Crucial's M550 256GB SSD which offers the same maximum read speed of 550MB/s, but also offers a maximum write speed of 500MB/s.
You can find the 256GB MX100 over at
Amazon.com
for about
$110 (US)
. This is an attractive price that matches up very nicely with most other 240GB-256GB on the market. When broken down it equates to about 43 cents per Gigabyte. Another impressive thing to note over at Amazon.com is that this drive has over 800 reviews with an average rating of 4.8 out of 5 stars. That is hard to accomplish, and speaks to the overall quality and value of this drive. While at Amazon, you can also compare the MX100 to the M550, where we see that the price difference is about $30. For most people, the 333MB/s write speed may be more than enough, but moving up to the M550 gets you a few refinements including the improved write speed of 500MB/s.
The Crucial MX100 256GB solid state drive is an impressive unit that offers a great bang for the buck. In the end it earns the Bigbruin.com "Recommended" and "Good Value" awards.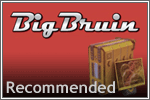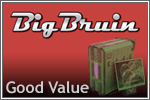 Pros:
» Read speeds are very respectable
» Attractively priced
» Three year warranty
» Includes access to free license of Acronis True Image
Cons:
» Write speeds are below average by today's standards
Please drop by the Bigbruin.com Forum and feel free to post any
comments or questions
.