Testing (continued):
AS SSD Benchmark 1.4.3704:
The next benchmark we will use is AS SSD, which is designed for testing the read and write performance of just solid state drives (and it was brutally painful to wait for it to test the one HDD). Results graphed below are all provided in units of MB/s, and higher is always better. We have sequential read and write tests, as well as read and write tests that utilize 4K random blocks.
The sequential read results are shown below, and the 256GB MX100 comes in at just shy of 500MB/s.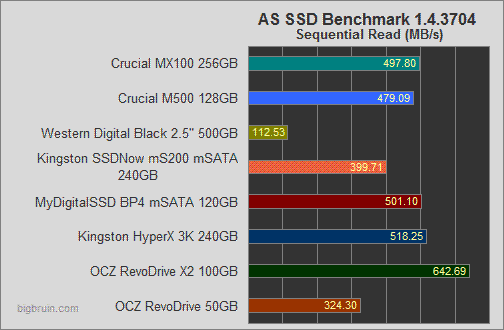 The sequential write results are shown below, and the MX100 oes in right about on target at about 330MB/s. Other drives that were faster in ATTO look slower here thanks to the way certain chipsets (Sandforce) handle incompressible data.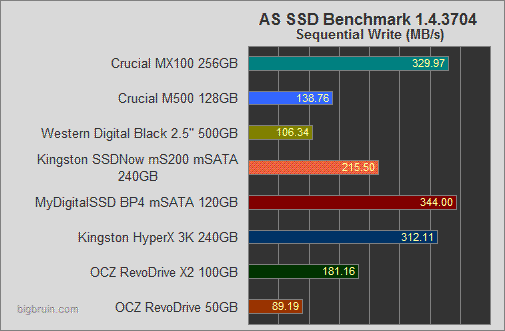 For 4KB random reads we see all of the solid state drives running rather "slowly", with scores in the 20-30MB/s neighborhood. In this test the MX100 takes the win with a speed of 28.50MB/s.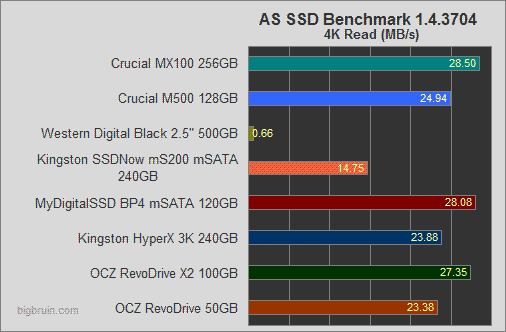 Winding things down with AS SSD, we have the 4KB random write results. The MX100 comes in second here, with a speed of 88.17MB/s.