The Basics:
The images below show the 256GB Crucial MX100 once removed from the packaging. It features a rough-textured, silver-colored metal housing with a label that describes it merely as Crucial MX 2.5 inch solid state drive. Around back you get far more information on the model, capacity, speeds, and a rather epic number of certification markings.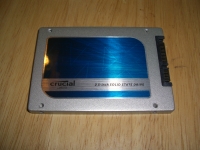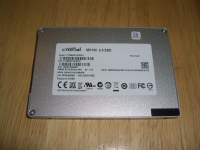 The next image shows the SSD next to the rather simple adapter provided to increase the thickness to 9.5mm This black plastic frame is self-adhesive so you can just stick it to the drive, and have it fit much more snugly in larger drive bays on your laptop, etc.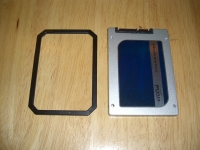 Installation and Operation:
The 256GB Crucial MX100 was installed in a Windows 7 64-Bit desktop computer using a
SYBA 4-port mSATA PCI Express controller
. This device lets me run up to four additional SATA drives at once, with a mix of mSATA and traditional SATA drives being possible. I find the transfer rates to be very impressive on this card, especially since it puts the drive running the OS on a different controller than the drives to be tested.


Once connected, the system was powered up and the screenshot below was taken from
CrystalDiskInfo
to confirm the details.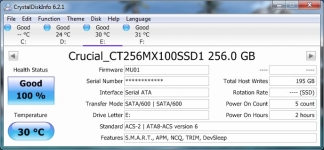 Testing:
CrystalDiskMark 3.0.3 x64:
As a warm up, a run of CrystalDiskMark 3.0.3 x64 was executed on the Crucial MX100 256GB SSD to see if we were getting about the right speeds. While we see that the read speeds are a little lower than expected, the write speeds are a little higher... which I have found to be about the case with this benchmark. These results were achieved with CrystalDiskMark set to "0 Fill", which simulates compressible data being transferred. When CrystalDiskMark was run in the default state, the results were much slower with reads in the high 300MB/s range and write speeds in the high 200MB/s range.