Conclusion:
The
Cougar
700M mouse was impressive for a variety of reasons. The build quality is top notch, with a fairly light weight despite having a solid Aluminum frame for strength. The internal caddy to add up to four additional weights allows you to beef it up a bit, if you so desire. The styling is definitely unique, and gives the 700M great aesthetic appeal. It definitely doesn't look like your typical mouse, and some of these futuristic looking features definitely contribute to the comfort and convenience of using this mouse.
The level of personalization and customization with the 700M is also very impressive. Having 4 DPI choices is typically a nice feature to have, but considering you can set the value of each DPI setting in the software (from 50-8200DPI), you have a very high number of configuration options. Add in the programmable buttons, all the other UIX configurable options, profiles saved to the mouse's internal memory, custom lighting options, and the adjustable palm rest and you really can have a highly configurable tool and not merely a plug-n-play input device.


Shopping around for the Cougar 700M finds it at places like
Amazon.com for about $75
. While this is definitely up there when compared to your typical mouse, the 700M is far from typical. The price is comparable to other higher end gaming mice from companies like Logitech, Corsair, ROCCAT, and Mad Catz - and feature comparison with some of these units is fair. If you're looking to spend $75ish on a high end gaming mouse, I would definitely recommend adding Cougar's 700M to you rlist of perhaps better known brands!
The Speed Pad mouse pads are also available at Amazon.com, where the small is about $10, the medium is about $12, and the large is about $16. The large pad we tested is a fine mouse pad, but nothing particularly special - unless you really needed one that was 18" x 16".
For the styling, comfort, performance, and customizability - the Cougar 700M gaming mouse earns the Bigbruin.com "Highly Recommended" and "Gaming Approved" awards.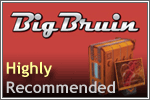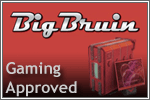 Pros:
» Very well built
» Precise tracking and solid button response
» Highly customizable
» 4 on the fly DPI settings, all of which are customizable to the user's
» Comfortable with a variety of grips
» Software is well laid out, very useful, and offers a vast array of options
Cons:
» LED color is cool and novel, but not always accurate
» I think another, larger palm rest would be nice
Please drop by the Bigbruin.com Forum and feel free to post any
comments or questions
.