In Use:
In this section of the review, the first thing we will do is look at the UIX System software provided by Cougar to control the 700M, and other peripherals. A comprehensive look at the software is provided on
this page of the Cougar site
, but we'll look at a few items as they pertain to the 700M.
This first screenshot shows a bunch of configurable settings, but first I would like to point out how aesthetically pleasing and nicely laid out the interface is. Many times the software is fairly crude for input device controls, but this one is well done in terms of form and function. A good portion of the screen below is dedicated to my favorite feature - customizing the DPI settings. It is one thing to offer 4 different setpoints, but here the user gets to choose what those 4 setpoints actually are! This screen is also where you can adjust things like polling rate, double click speed, scroll speed, etc.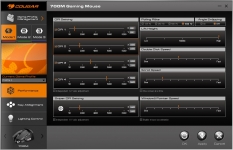 The next screen shows how you can program the various buttons on the mouse. The visual interface is very easy to work with, and you know exactly what you are changing.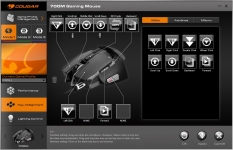 The next feature is super cool, but doesn't quite work as expected in very case. You are supposed to be able to program the indicator LED to show 16.8 million different colors, with two modes of operation (breathing and constantly on). While the vast majority of the color choices were reproduced just fine, I found some colors I chose didn't translate from the software to reality quite right. I chose a few shades in the yellow / orange family and it actually looked greenish when the mouse lit up. No big deal, but odd. The idea is cool, but clearly serves no practical function.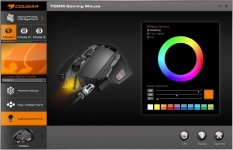 There are a few other screens, where even more can be customized - including saving profiles for your most frequently used games / applications. Overall the UIX System is very impressive.
After several weeks of use, and plenty of time tinkering with the mechanical and software based settings - I have to say the 700M mouse is very comfortable. I can use it for hours on end without any discomfort, and the options allow you to make it work for your hand. One size doesn't fit all when it comes to mice, and the 700M addresses that. I also like that I can switch between a palm style grip and a more claw-like grip and still be very comfortable with just a bit of adjustment. One aspect that I am getting used to is that the surfaces are all rather hard, and on occasion it can be difficult to keep a good grip with a claw-like grip.
In games, I find the special buttons associated with shooting are very useful, and are ergonomically positioned to make using them very comfortable. The software lets you customize the mouse to suit the needs of any game / application, and you can really make game play much easier with the right programming and use of macros.