Speed Large Mouse Pad:
Cougar also sent over one of their new Speed mouse pads, which is available in three sizes... small, medium, and large. More information on this series of mouse pads is available
here
.
We received the large sized pad, which is sold rolled up in the box shown below.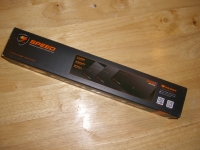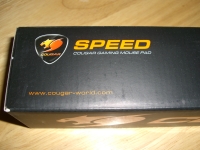 The next two images show more detail on the box, where you see the dimensions are 400mm x 400mm x 4mm thick... which is absolutely massive for a mouse pad.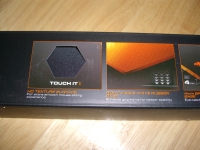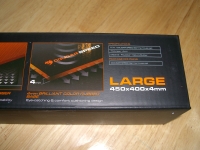 Once out of the box you can see that it isn't all that revolutionary of a moue pad, and is a cloth topped rubber pad with a variety of fancy attributes touted on the website. It is a decent mousepad and works just fine, btu I didn't get too excited about it. The entire top surface is black, except for the lower right corner where we find the company logo printed in orange and white.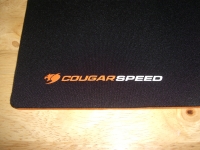 The next two images show the whole mouse pad, which was far too large for my desk. I had to go back to the wooden table where two people can comfortably eat a meal in order to have enough room to spread it out. When I am using my mouse I typically need 3-4 inches of travel in either direction, but with this thing you have 16-18 inches, which is just kind of silly. While the large one may be just too big, keep in mind they do come in two other sizes, which are roughly 10" x 8" and 12.5" x 10.5".