The Basics (continued):
The next set of images are provided to show off the adjustable / replaceable palm rest. Like a race car spoiler, this can be raised or lowered, and even swapped out for a smaller sized palm rest. There is a thumbscrew under the mouse that lets you adjust the angle of the palm rest, and a quick release mechanism lets you pop it off in order to swap it with a smaller palm rest. I have tried plenty of positions and have found plenty that work, but I keep adjusting it looking for the optimal location. I have found a spot that works great for a palm resting on the mouse style grip, and other that works well for my preferred grip which hase just my finger tips engaged in a claw-like grip.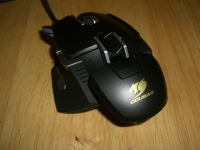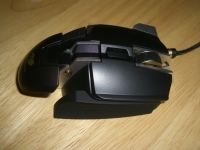 The next images have the mouse flipped over, where one feature we can see is the thumbscrew that allows for adjustment of the palm rest position. Additionally, we can see more of the 700M's Aluminum frame, as well as the laser sensor.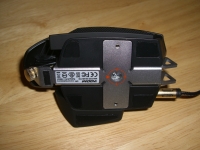 The below left image shows the smaller palm rest installed on the mouse, with the larger one off to the side. To be honest, I'd like to see an even bigger palm rest. The small one doesn't suit my tastes at all since it is too small to get comfortable on, and while the bigger one seems to work fine, something a little larger might be interesting. In the below left image we can see another feature worth discussing... Just to the left of the palm rest, but to the right of the left mouse button, we find 4 dark colored rectangles. These are actually LEDs that light up to indicate the DPI setting. YOu can fully customize the DPI value of each setting in the software, and then use the button on the mouse to switch between your four values on the fly. I am used to having DPI options, but Cougar has taken it to the next level with this mouse.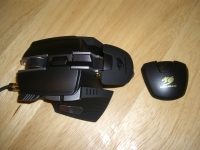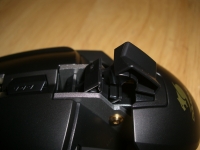 The above right image shows that just to the right of the DPI adjustment button is where we find a caddy to hold up to four additional weights to further customize the mouse. This caddy pops in/out without tools and allows you to increase the weight in 4.5g increments, up to 18g additional over the base weight.
The final two images in this section show the weight caddy, both without and with the weights installed. While I was unsure I would care about any adjustment, I have found that two weights, installed in the upper positions, is actually my preferred feel.