Cougar
is a company that was founded in Germany back in 2007, but they really made their presence known in the USA in 2013 with the release of the
Spike mATX case
. This case still gets plenty of attention thanks to its styling, handful of higher end features, and ridiculously low price. Cougar has a handful of other products in their line up though; including power supplies, fans, keyboards, and mice.


For this review, Cougar has sent over a new mouse, the rather futuristic looking 700M gaming mouse, shown in the promotional image above. The 700M does not have the look of a traditional mouse, and it looks as if it is poised to transform at any moment to join Optimus Prime in battle. We will find that while this design may look like it is from another galaxy, it offers features that make it very appealing for every day use (here on Earth). Before getting to the sample provided for review, let's take a look at some published features and specifications taken from the
official product page
on the Cougar website.
Features and Specifications:
» Product name: COUGAR 700M gaming mouse
» Sensor: ADNS-9800 Laser gaming sensor
» Resolution: 8200 DPI
» Processor: 32-bit ARM Cortex-M0
» Game type: FPS / MMORPG / MOBA / RTS
» Polling rate: 1000Hz / 1ms
» On-board memory: 512KB
» Material: Aluminum / Plastic
» Software: COUGAR UIX™ SYSTEM
» Programmable buttons: 8
» Switching: OMRON gaming switch
» Profile LED backlight: 16.8 million colors
» Frame rate: 12000 FPS
» Maximum tracking speed: 150 IPS
» Maximum acceleration: 30G
» Interface: Golden-plated USB plug
» Cable length: 1.8m Braided
» Dimension: 127(L) x 83(W) x 38(H) mm
» Weight adjusting: 4pcs x 4.5g
» Weight: 130g
Packaging and Accessories:
The Cougar 700M is sold in a box that couldn't do a better job at showing off the product inside. Through the three-sided window on top you can see every facet of the top of the mouse, and the rest of the box's surfaces are covered in details regarding the mouse and its functionality.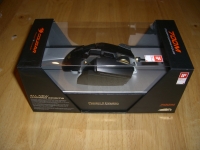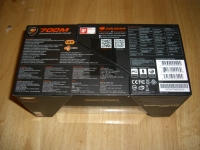 The box slides open in two halves to give access to the mouse, and the collection of accessories stored beneath it. The below right image shows off some of the accessories, which include a second (smaller) palm rest, four weights for adjusting the mouse's weight, and a portfolio of documents.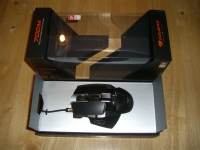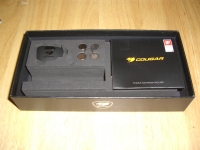 The final image in this section shows what is in the portfolio... A sheet of Cougar decals and a user's manual.