User Interface:
The software used with the 600M is the same as the 700M, which we covered on
this page
, and is described in full
here on the Cougar website
. You will run through the main screens as they relate to the 600M below, but please refer to those other pages for more details.
The first screen dedicates a good portion of its real estate to customizing the DPI settings. The mouse offers four different setpoints that can be selected on the fly, and here the user gets to choose what those 4 setpoints actually are between 50 and 8200 DPI! This screen is also where you can adjust things like polling rate, double click speed, and scroll speed.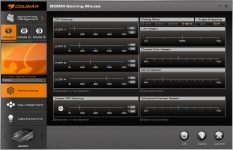 The next two screens show where you program the various buttons on the mouse. The user interface is very easy to work with, and you can tell exactly what you are changing.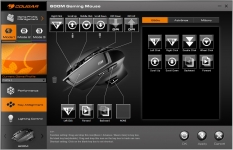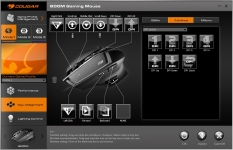 The next screen shows a feature that is very cool. You can program the indicator LED to show 16.8 million different colors, with two modes of operation (breathing and constantly on). Breathing means that the light surges in intensity, while constantly on is fairly easy to understand.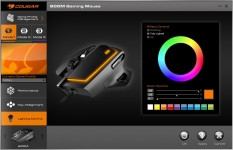 The final image in this section shows where you can create profiles for your various games. You can have custom DPI settings or reprogram the buttons to function differently from one title to the next.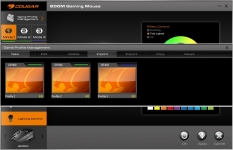 The software works very well, and the layout is attractive and more refined than I am used to seeing with other gaming mice.