Conclusion:
With
Cooler Master
's reputation of producing high quality cases, the Scout 2 does not fail to impress. It is a nice update to the original Scout, which is 2 years old and starting to show its age. Integrating USB 3.0, a refined style with more curves, a smoked window and a rubberized handle shows that Cooler Master is constantly looking to improve its products.
I am always nervous when moving my system to various LAN events; I took a chance on the handle of the Scout 2 and have to say it did not fail, even after I took a chance by swinging the case around by the handle. With the steel reinforcing that Cooler Master has done, it looks like it should have no problems supporting the weight of any system.


While the Scout 2 kept the temperatures well under maximum for the system, it could be better. Including only one case fan seems to be a drawback, however that leaves the user an easy choice to implement the fans of their choosing. My biggest suggestion would be to add a couple of 120mm front intake fans, such as
Cooler Master's
120mm LED fan for $6.99. You could always fully load the Scout 2 with 9 fans to provide the most airflow possible, even though that might be a bit overkill. Don't forget to add a filter on the side panel and bottom fans.
The
Bigbruin.com
shopping page found the Cooler Master Scout 2 available at one place
J&R
for $100.99. Doing a quick search elsewhere online found it at
Newegg.com
for $99.99 plus shipping. For a mid-tower case of this quality, and with the advanced features such as tool-less drive installation, carrying handle, removable 3.5" hard drive cage, and USB 3.0 internal connection, this is a great price for such a case.
Taking into considering everything this case offers for the gamer, extra long video card support, carrying handle, and lighting effects it receives the "Gaming Approved" award. Looking at the case overall with the build quality, cooling options, USB 3.0 support, pricing and ease of installation the Scout 2 also receives the "High Recommended" award.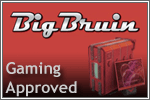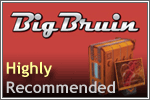 Pros:
» Strong carrying handle
» USB 3.0 internal connection
» Cable routing holes in motherboard tray
» CPU backplate installation cutout in motherboard tray
» Fan LED on/off
» Power supply filter easily cleaned
» Many fan options
Cons:
» Only 1 included fan
Please drop by the Bigbruin.com Forum and feel free to post any
comments or questions
.