Testing:
To evaluate the idle temperature, the system was left sitting at the Windows desktop with nothing running for 60 minutes in a room with an ambient temperature of 68 degrees Fahrenheit (approximately 20 degrees Celsius). The Cooler Master Scout 2 was a little warmer than the ambient temperature, however it was still within the typical safe zone. The Antec ONE case is of similar configuration (one exhaust fan) and mid-tower; it's probably the best comparison of the group. As the chart shows, even at idle, the Scout 2 was 6C cooler than the Antec ONE.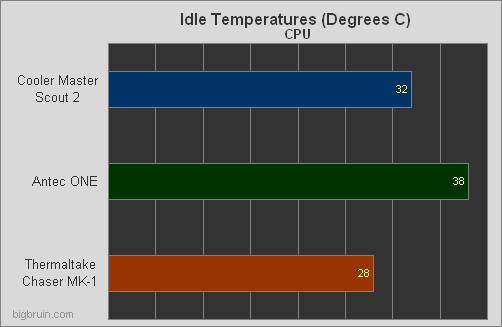 To obtain a load, 3DMark Vantage was run three times with the highest settings possible, with the maximum temperature being recorded by HW Monitor. While the system was under load conditions, the Scout 2 was cooler than the Antec ONE, however it was 8C warmer than the Thermaltake Chaser MK-1, which is a full tower case, with multiple fans.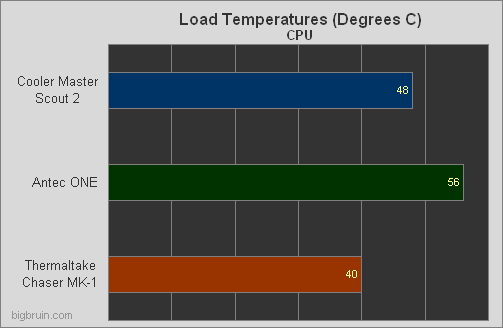 While there is no solid proof of this, I did notice a large amount of heat coming out of the rear exhaust fan. That could explain why it's cooler than the Antec ONE, even though they are pretty close to being identical in design. Cooler Master's exhaust fan looks to do 51CFM; there are
more powerful 120mm
fans, but those will be louder and there are certainly fans that do less than that.