Installation:
The following hardware will be installed into the Cooler Master Scout 2:
» AMD 1090T 3.2GHz processor
» Thermaltake Frio CPU cooler
» 16GB Kingston HyperX Blu 1600MHz DDR3 memory
» ASUS GTX 560Ti video card
» LG Blu-Ray burner
» Vantec EZ Swap F4 Four Bay 2.5" SATA SSD/HDD Rack
» Intel 520240GB solid state drive
» OCZ Vertex 4 256GB solid state drive
» Seagate 7200.11 1.5TB hard drive
» Seagate 2 x 7200.12 1.0TB hard drive
» Corsair CS600 power supply
» Windows 8 PRO
While installing the various components, there were no surprises; everything was installed as expected. As the ASUS GTX 560TI is no longer than the motherboard, the removable hard drive cage did not need to be removed. Installing the 5.25" devices was simple, as the retaining clips slid into place and once there, the devices were secured, I did not feel the need to add any screws to the opposite side.
Taking a look at the final build in the above picture, the Scout 2 does a good job at allowing many of the cables to be hidden behind the motherboard. Using a few of the included cable ties would allow this installation to be very clean.
Prior to installation, I removed the 3.5" hard drive cage, which is really just one of the sides. Five screws is all that it takes to convert the Scout 2 to allow the extra long video cards. Sadly, removing this wall will reduce the number of 3.5" hard drives, and will also remove one of the locations for a fan to blow directly onto the video cards.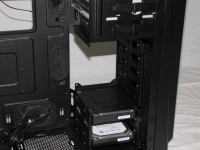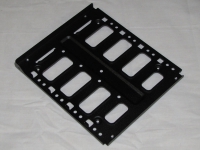 Finally, a small view of what can be seen through the side panel window. The CPU cooler and memory are visible, from the video card down is hidden behind the side panel area for the case fans. If you take a close look, the tint of the window is evident here. The second picture shows the exhaust fan lit up showing off its red LEDs.