Internal Inspection:
With the side panel removed the interior of the case is clearly visible. As with most modern cases the interior matches the exterior, continuing the high quality paint finish. The motherboard tray is configured to take advantage of Micro-ATX and ATX motherboards. A large hole in the motherboard tray is aligned to allow easy installation of CPU support brackets after the motherboard has been installed in the case. On the edges of the motherboard tray are three large holes designed to help with cable management. These holes have rubber grommets which give a professional look and helps to protect the cables; the largest of these holes is at the bottom near the power supply.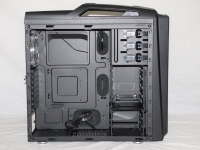 The 5.25" drive bays use a tool-less installation method which is very simple to use. Simply slide your device into the appropriate bay and flip the lock over to secure it. This will lock the device into the bay securely, however, if desired, screws can be installed on the other side of the case. As mentioned in the accessories, the 3.5" drive bays use rails as their tool-less solution. On the top 3.5" drive cage there is also a place to install a 120mm fan, which can increase the airflow across the hard drives. One issue that many enthusiasts encounter deals with the extremely long video cards. Cooler Master has designed the top 3.5" drive cage to be removeable, and this is done by removing five screws and taking the side of the cage out. This will reduce the number of 3.5" drives that can be installed in the Scout 2 by four.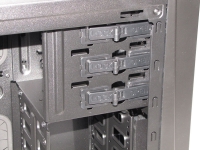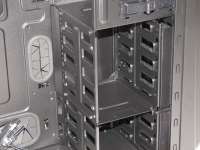 The bottom of the case includes a place for an additional 120mm case fan, and the power supply. Cooler Master has included four rubber feet for the power supply to help reduce vibration. The second picture shows the back panel which includes the exhaust fan, seven expansion ports (these are secured with thumbscrews), and the extra expansion port which comes in handy to add additional USB ports or other cable driven ports.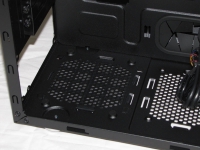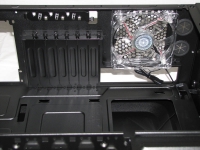 The interior of the top panel includes mounts for two 120mm fans, these would be perfect for exhaust fans. This portion of the panel can be removed by the six clips, which allows access to the screw holes for the fans.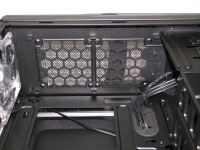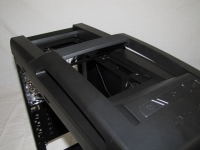 A slight tug and the front bezel comes off, and since all the buttons and ports are built into the case, there are no wires to be concerned with. The 5.25" drive bays do not have any covers on the case, which will make installation easier. The bottom section has an area for two 120mm or one 140mm case fan. The exclusion of a front intake fan is a disappointment, as the original Scout included a 140mm fan; this feels like a step backwards. The front bezel has a fine mesh filter installed, which can help reduce dust inside the case.