Conclusion:
The
Cooler Master
HAF 922 Mid-Tower case is an excellent choice for gamers, enthusiasts, or anybody who wants to have a great looking case while also keeping their components cool. Installing components is nearly tool-less, and the only time you will need any tools will be when you mount your motherboard and power supply. The large fans will keep your system running cool while keeping the noise level to a minimum.
The cable management in this case is top notch. Proper routing of your cables is key to helping to keep the air flowing. There is plenty of room between the motherboard tray and the rear side panel to route all your cables with no problems. For most people, once their system is built they leave their CPU heat sink alone until it is time to do a rebuild. However, for those that frequently change heat sinks the hole in the motherboard tray allows for easy access to the back side of the motherboard which in turn will allow the user to change the CPU heat sink without detaching the motherboard from the case's tray.


With everything this case has going for it, there are a few things I would like to see changed. First, the height of the feet on the bottom of the case. A little more height would be nice for those that have their case sitting on carpet. Also, a filter on the bottom would be helpful to reduce the amount of dust brought into the case. Finally, another red LED fan at the top of the case that is attached to the LED on/off switch would be nice. This may be a very minor point, but it would add a little additional flair to the case.
A search of the Internet did not find the Cooler Master HAF 922 case available for sale anywhere as it has just been released. The HAF 932 can easily be found at popular online stores for around $150, and the HAF 922 is expected to carry an MSRP of $129.99 when available. For a case of this quality and with these features, that seems about right.
The
Cooler Master
HAF 922 mid-tower case receives the Bigbruin.com "Gaming Approved" and "Highly Recommended" awards for its high quality design and its many appealing features.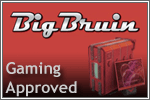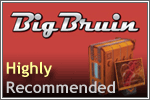 Pros:
» Ability to turn off the front fan LEDs
» Great airflow to aid in cooling
» Easily fits large video cards
» Tool-less installation of drive bay devices
» Easy cable routing
» Liquid cooling ready
» Great looking design
» Multiple fan size options (up to 7 fans)
» Extremely quiet fans
Cons:
» With bottom mounted fans, case feet should be taller
» No filter for bottom or side panel intake fans
Please drop by the Bigbruin.com Forum and feel free to post any
comments or questions
.