Operation:
When the system was turned on, I was surprised that even with the large fans I was not able to pin-point their noise over the noise from my power supply. As quiet as they are, I was expecting them to move very little air. That expectation was wrong. Right above that computer, I have my Rock Band X-Box 360 Guitar hanging from the ceiling; it is about 7" from the top of the case. The top fan was able to make the guitar sway! Placing my hand over the 200mm top fan and the rear 120mm, I determined that the top 200mm fan was pushing more air.


Keeping your components cool is vital to all computers. This is even more important if you tend to push your system to its limit as many gamers and enthusiasts do. Using
Lavalys
Everest Ultimate Edition v.5.01, I monitored various temperatures during both idle and load conditions in both the Lexa Blackline and HAF 922. During these tests my room was a constant 16 degrees Celsius.
The idle condition was obtained by letting the system sit with nothing running for 60 minutes. The airflow in the HAF 922 was able to aid in dropping the temperature of the CPU, eVGA 260GTX, and Aux readings by 4 degrees Celsius! However, the 80GB Seagate hard drive which only has Windows 7 Beta installed did not show any change in temperature.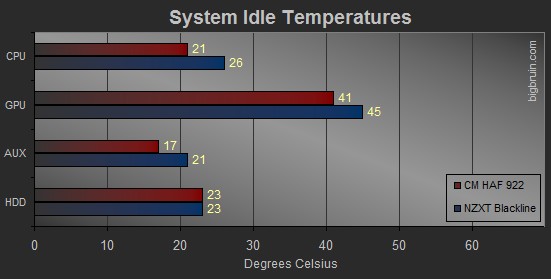 The load condition was achieved by running
FutureMark
's 3DMark Vantage v.1.01 and OCCT v.3.1 simultaneously. Once again the temperatures dropped in each of the readings. Even the 80GB Seagate hard drive showed a 3 degree Celsius difference.