External Examination:
The entire case is done in a gun metal black, and the only exception is the Cooler Master logo on the front bezel. This case would look right at home in almost any gaming room, while not looking out of place if you had it in an office setting. Almost the entire front bezel is made out of a metal mesh, which is a nice feature for allowing a good deal of airflow and just looking cool. The bottom portion of the bezel does include a few "spacers" which break up the extensive use of mesh just a little.
At the top of the front bezel are the standard I/O ports; two USB 2.0 ports, microphone/headphone jacks, and the welcome addition of an eSATA port. There is no door on the front bezel, so you have full access to the five 5.25" drive bays. Each of these drive bays has a metal mesh cover plate; the last 5.25" drive bay has an extra cover plate to allow it to be used as a 3.5" drive bay.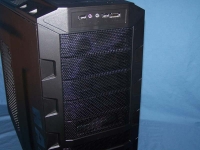 The side panel is a little flared out, giving it a distinctive look. On most cases the side panel is fairly flat, so this is an interesting design feature for the HAF 922.


The HAF logo is placed on the side panel in shiny black lettering, however it is still rather subtle and it does not jump out at the user. The final thing to note on this panel is that there is a large area that has a honey-comb pattern cut-out. This is where the user can add either two 80mm or one 120mm case fans.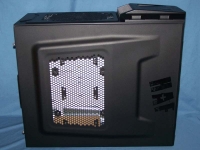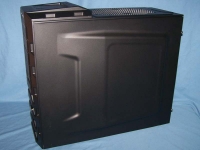 The above right image shows the other side panel. While it looks almost identical to the side panel we already looked at, there are two differences; no logo and no fan.