Packaging and Accessories:
The
Cooler Master
HAF 922 case arrived in the shiny retail oriented box shown below. The front of the box really doesn't give you any information other than the model and a 3/4 view of the case. The back of the box gives you all kinds of information.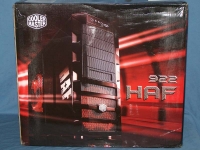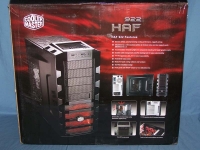 The sides of the box provide a little more information, such as the list of specifications shown in the image below.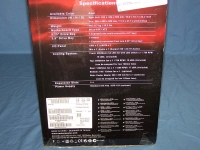 Inside the box, the case is very well protected by two Styrofoam blocks on the top and bottom of the case. These blocks hold the case securely in place while a plastic bag protects it from moisture. This packaging method has been proven to ensure cases are delivered in perfect condition.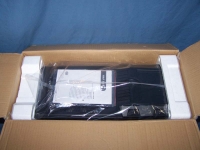 Included with the HAF 922 are several accessories. These accessories include a well detailed installation manual, many lightweight cable ties, a little speaker, two bags of assorted screws with extra standoffs, and finally a set of 3.5" to 5.25" drive rails. Cooler Master shows they look at the little details by including the 3.5" to 5.25" drive rails.