Internal Inspection:
Once we remove the faceplate, we see that the Buffalo CloudStor NAS ships with a single 2 TB hard drive. There is a second slot for another drive which can be added later and either be setup for RAID 1 (mirrored drives) or configured to do a folder copy via the Active Copy feature of the unit. The clear plastic clip on the bottom of the drive helps to secure it and prevents movement during shipment or relocation. The metal ring at the top of the drive is attached to a clip that sits behind the drive and slides forward to help remove them easily.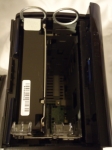 Checking the drive specifications reveals that Buffalo is using a 2 Terabyte Seagate Barracuda Green drive with a rotational speed of 5900 rpms and 32MB of cache. The drive is a SATA II model capable of a 3Gb/second data rate.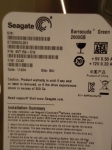 Removing a few screws let's us peek inside at the inner workings of the Buffalo CloudStor. As you can see, the motherboard (for lack of a better term) is quite compact. The overall length is just about half the length of the case and it is secured with four screws.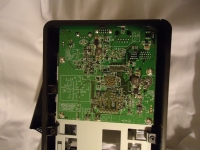 Once we free the board from the chassis and flip it over we can see more of what makes the CloudStor tick. Smack dab in the middle is the advertised 1.6GHz processor. Below that are two 128MB PC8500 DDR3 chips. The only expansion on the board is a 1x PCI Express slot which holds the drive back-plane and a single 3-pin fan power header. The smallish chip to the right of the PCI Express slot is the network controller.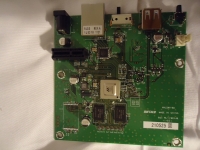 The image below gives you a better view of the RAM chips and the integrated heatsink covering the CPU. Note that the processor runs so cool, that there is no need for a fan much less a large heatsink.