External Examination:
Out of the box, the CloudStor is a fairly compact unit - at 5 inches tall by 3.5 inches wide and 8 inches deep, it's just big enough to house two standard 3.5 inch hard drives, and not much else.


There are three indicator lights on the front of the unit; one for power, one for function, and one for errors. There are slots for air flow on the top of the faceplate as well as one on each side.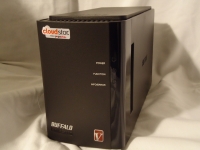 The back of the server is just as no nonsense as the front, with the most obvious feature being the sole exhaust fan. In addition, there is a function button which is used to copy data from external USB drives and a USB port for said drives (which could also be used for attaching and sharing a printer). Directly below that is a Gigabit Ethernet port and power adapter jack. Also of note are the Kensington lock socket and the power cord "stress relief", clip which are nice features that aren't found on many NAS units.