Packaging and Accessories:
The
Buffalo Technology
CloudStor 2TB NAS Server ships in a bright and shiny retail package. The three cloud images and giant 2TB label immediately hint to the consumer what the device is all about. The QR code found in the lower middle portion of the box allows any potential buyer the ability to get even more information about the unit before their purchase.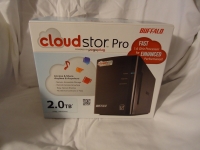 Around the back of the package, pictograms map out how easily the CloudStor fits the need to store and share various types of media on a home network and via the Internet. The inclusion of the BitTorrent application, plus Facebook and Twitter integration, help to reinforce the social media aspect of the device.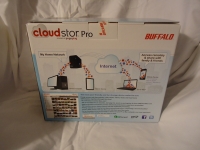 Before we get to the CloudStor NAS itself, let's look at the included accoutrements. From top to bottom, you receive a Quick Start Guide which walks the user through setting the NAS up and the steps necessary to login to it from their home network, a 6 foot(ish) Ethernet cable, and power adapter with power cord.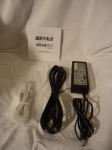 The included power supply is rated for 144 watts which should be more than enough for two hard drives, a low power CPU, and a fan.