In Use:
I don't own a Mac notebook, but other than from a marketing perspective the Choiix cooler has no real connection to the specific units mentioned on their site. Therefore, the
Choiix
C-HL01-WS Air-Through laptop cooling pad was used with a laptop featuring the following components:
» MSI MS-1651 15.4" laptop (barebone)
» Intel P8400 2.26GHz dual core mobile processor
» 4GB (2x 2GB) Kingston HyperX PC2-6400 DDR2 memory
» 320GB Western Digital Scorpio 2.5" hard drive
» MSI 8X slim DVDRW
» MSI 512MB 9600GT mobile PCI Express graphics card
The next set of images show this laptop seated on the C-HL01-WS. This 15.4" widescreen laptop fits just fine with the width and depth of the Choiix cooler. Worth noting is that the area of the cooler where the fans install extends beyond the back of the laptop, with a slight hump that can't conveniently be used. You have to allow a little extra depth on your desktop, something some of the more compact coolers don't require.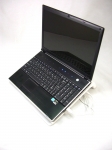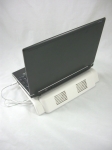 I found the C-HL01-WS made a comfortable typing angle, and access to a handful of extra USB ports could come in handy if you have a variety of external peripherals. On the downside, the fans are louder than I expected, and there is no fan speed control built it... They are either on at full speed or off.
To test the performance of the cooler I used
HWMonitor
to keep an eye on the temperatures of the CPU, GPU, and hard drive. Idle and load temperatures were recorded with the laptop sitting on a desk without a cooler, with the laptop on the Choiix C-HL01-WS, and with the laptop on another cooler from
Hiyatek
. Idle conditions had the laptop sitting at the Window's desktop for one hour without activity, and load conditions had the laptop run through the DirectX 10 demo for Company of Heroes: Opposing Fronts twice back to back. Since HWMonitor records minimum, maximum, and current temperatures it is easy to see just how hot each component got.
The table below summarizes the results: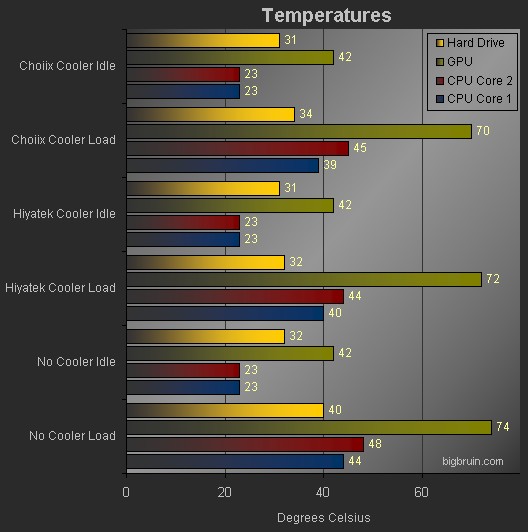 What we see is that both coolers provided temperature drops to all components monitored, but none of the results were extreme. The CPU temperatures might be considered a draw, while the Choiix cooler brought the GPU temperature down the most, and the Hiyatek cooler brought the hard drive temperature down the most.
The main issue is that for a rather trivial improvement, the Choiix cooler was just too loud. The Hiyatek cooler was quieter at full speed, and features a fan speed controller for reduced noise if desired. It also includes a USB hub and flash memory card reader, adding extra appeal. The main things the Choiix cooler wins on are style and by creating an ergonomic position by elevating the rear of the laptop.