The Basics:
An overview of the
Choiix
C-HL01-WS Air-Through laptop cooling pad is provided below. The bulk of the cooler is plastic, with some trim pieces made of rubber. The silver and white color scheme seems to be Mac inspired, and overall it has a clean, somewhat sophisticated appearance. The unit measures roughly 350mm by 330mm, and it is intended for use on laptops with up to 17" screens.


From the top you might not be able to tell that this is an actively cooled device. From the top you can't see the fans and there are no indications that electricity is required (no visible lights, no switches, no plugs). Near the front edge there is a Choiix logo, as well as a rubberized strip that should help to keep the cooler from slipping on your desk. Your laptop needs to have non-slip feet of its own or it will slide right down the smooth plastic ramp.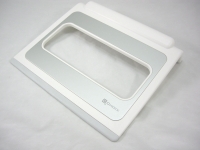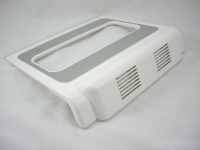 Along the back edge there is another rubber strip to keep the cooler in place, and two sets of slots for the 60mm fan intakes. These fans will draw air in from the back and blow it across the bottom of the laptop found just above the large open area in the cooler.
The below left image shows the left side of the cooler where we find three USB ports. The below right image shows the right side of the cooler, where we find a variety of other features. There is another (downstream) USB port, a mini-USB port to connect to your PC, an LED, a power button, and an optional power jack.