Razer:
Razer
is well known for developing and manufacturing high quality keyboards, mice, and accessories specifically for gamers. They are preparing to move into a new market, the X-Box 360.
Expected to debut in the second half of 2010, the Razer Onza will have all the features you expect in an X-Box 360 controller. However, Razer is not happy developing just another 360 controller; they have greatly enhanced it. A working prototype was on display and available for game testing.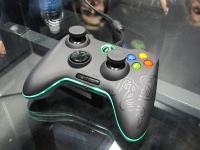 The Onza has two additional features; two multi-function buttons located between the triggers and the shoulder buttons and an adjustable tension on the two joysticks. The multi-function buttons can easily be assigned any of the other buttons (A, B, X, Y, Thumb Buttons), or as a rapid fire option. The adjustable tension is a great feature as it allows you to have a loose controller for some games, and then make the controls tight for other games. It is a matter of preference on how you like your controller.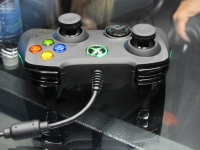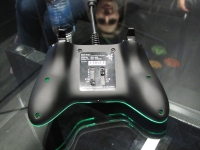 Razer is also releasing a new wireless headset which will provide 5.1 channel sound. In addition to working on the 360, it will also work for your home theater. It provides a simple pass-through for your home theater audio. If the 360 is off, it will automatically select the home theater channel. Also, as this headphone only works for audio, you will need a microphone for voice, which must be connected to the 360 controller.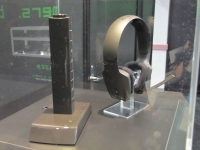 For those that prefer PC gaming, you have nothing to fear. Razer is not going to leave PC gaming, in fact they are in the process of developing a wireless 3D controller by Sixense for the PC. Similar to what the Wii has, but on different technology. Instead of being IR, it will use a magnetic field for tracking (no gyroscope or accelerometer). This dual hand motion will allow you to have free floating controls in games which should help response time. A working prototype was available, while it still had some glitches, it was fun to hack zombies apart in Left 4 Dead. The biggest drawback with this is the magnetic field, it provides a 6 foot radius of the receiver. Look for this near the end of the year.